New productivity features coming to Mango, including Threaded Messages
Posted on 05-16-11 03:46 pm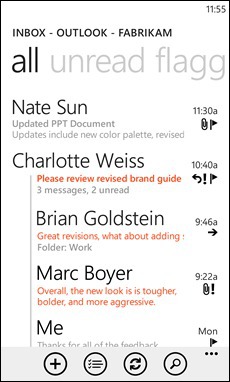 Right after several new details about Mango were revealed yesterday, some new features have been unearthed by the official Windows Phone Blog. Along with all the sweet features we've already seen, Mango will be coming with new productivity features for all your work-related needs. They include:
Threaded Email - Emails will now support a conversation view, making it much easier to see replies to a certain email chain.
Pinnable email folders - Email folders, messages from a group/person, and RSS feeds will be pinnable to the start screen for quick access.
Server searching - Currently, searching your email only searches messages on your phone, but coming to Mango is the ability to search all the mail on the server.
Lync - A Lync Mobile client will be available in the Marketplace, including instant messaging and visible presence of co-workers.
It's specifically the enterprise, but we can see how some of these features can be useful on the personal level, and improving both of these aspects is certainly a welcome change. Hit up the source link for more details.
[Via: Engadget; Source: Windows Phone Blog]