Notification Center PC Application
Posted on 12-29-12 07:00 pm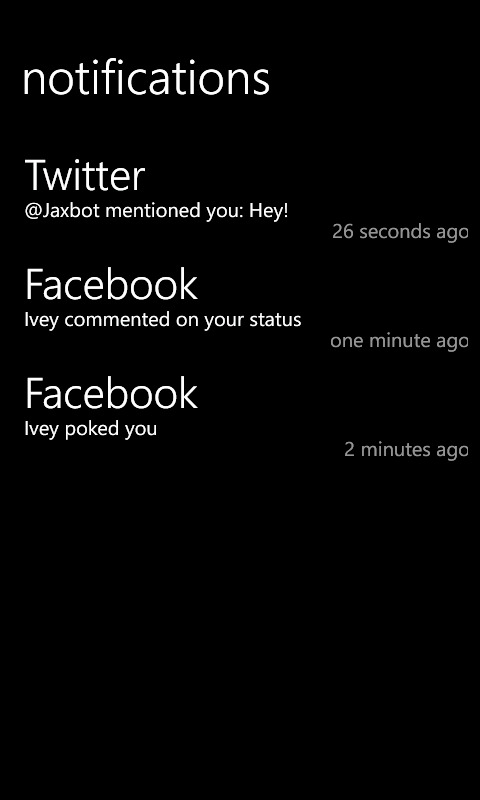 Welcome to Notification Center! In order to use Notification Center, you need to run the PC application on your computer. This application requires zero configuration; just run it, follow the on screen instructions, and you'll be using Notification Center in seconds.
Download and run it from here: notificationserver.exe
Instructions
1. Install Notification Center on the phone
2. Run NotificationServer on your PC
2. Connect your phone to your computer, and sync it with Zune
3. Restart the phone, without disconnecting
4. Run Notification Center
5. Done!
If you have any trouble, let me know in the comments below and I'll try to help! Please note that Windows Phone 8 is currently not supported.
Troubleshooting
Here's some troubleshooting tips. Please try these all before messaging me, to prevent duplicate issues. Thanks.
1. Make sure Battery Saver is off, WiFi/network are connected, etc.
2. Make sure you follow the guide step by step. Each step is important, in that order. NC is delicate.
3. If you repeatedly get the request timed out message, your phone may have throttled push services. Try turning battery saver on and off again, or wait a bit. It should clear up automatically. Restarting repeatedly will only make it worse.
4. If you get the setup message, your phone is not provisioned. Try the instructions again, make sure you restart.
5. If you're using a WP8, see above bold message.
Side note: These are the early days of the application and I'm trying to sort things out. The application is actually running fine for the majority of the people, with a few people having issues with server lag. I'm trying to iron out the problems, but in the meantime, try try try again!