"Walshed" Phone Support Tool approved, ready to repair your non-updating phones
Posted on 05-14-11 07:18 am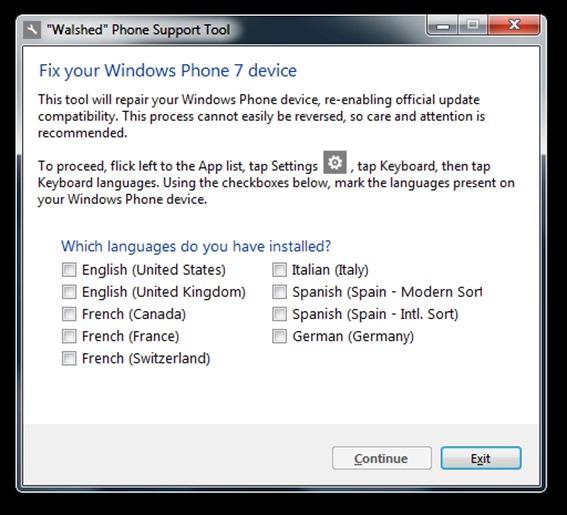 After Chris Walsh released the ChevronWP7.Updater tool, Microsoft issued a warning to users of it that their phones may be unable to update past build 7390. In some cases, this was true, and in others, the update worked just fine. Chris Walsh promised a fix for the users who were affected by this, and now the fix has received approval from Microsoft themselves. To quote:
With the existence of an update I was able to further test my tool on how phones would behave with future updates. Which led me to realise, in CERTAIN scenarios phones wouldn't update, but yet others would. Which led to the creation of this tool. This tool has been tested by Brandon and his team and I have approval to release it to users for use.

As screenshot shows, you just need to CAREFULLY select the right languages installed on your phone, and click "Continue". This will REPAIR your "Walshed" phone and put you back on the official update path.

The tool does what one XDA Developers user noticed around a week ago: The missing information that prevented the phone from being truly in the 7390 state was the language packs, to which Walsh's first tool apparently only installed the desired packs.
Regardless of the technical details, the tool is approved and ready for your use. Head over to Chris Walsh's blog for the download, but remember, this is no toy.
[Source: Chris Walsh]