Update: WPH Tweaks version 0.6
Posted on 07-23-12 12:15 pm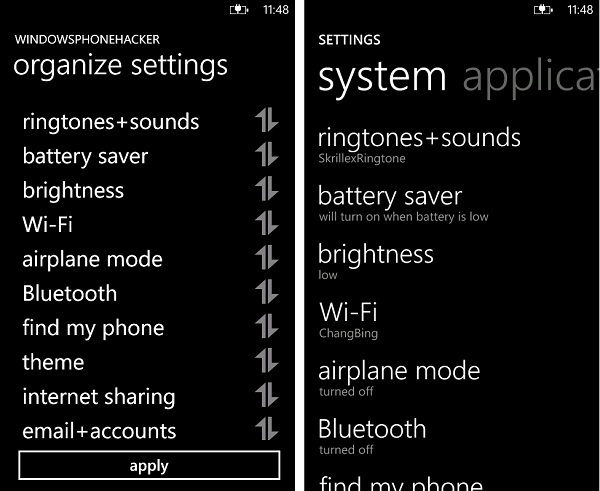 Something has happened! Version 0.6 of the oh-so-loved WPH Tweaks application has been released!
Introductions aside, I've assembled a new version of the WPH Tweaks application. and if my count is right, this makes it a version 0.6. This version is actually significantly different in one way, though, so don't let the little version counter fool you. In this version come the following new tweaks:
Tango-only: Enable Static IP, export contacts to SIM options (thanks, Leapo)

As requested, an option to change the H/3G+ icon to a 4G symbol
This didn't seem like enough for a new release, though, so I cooked together something I've been meaning to build for a long time: a settings rearranger.
Simply put, the Windows Phone settings menu never made sense to me. Especially after Mango, where all these settings options seemed randomly assembled. I mean, why would I change my theme more often than I adjust my brightness? Having to scroll down to get my brightness up when I can barely see the screen was, well, irritating.
So, if it suits your fancy, you can now rearrange the settings menu using the organize settings options in the latest version of WPH Tweaks.
Have fun, give me feedback, and grab it here.