Unofficially updated phones still update, despite Microsoft's word of caution
Posted on 05-03-11 07:54 pm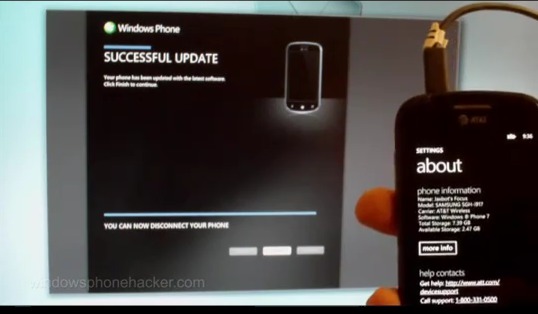 When I fired open the Zune application this afternoon, I noticed that Microsoft had deployed the latest security update for my unbranded (read: hacked) Samsung Focus, and I went ahead and updated it to see the results. Suddenly, it occurs to me-wasn't this phone supposed to be at the end of the line?
Let's back up for a moment. Back in early April, Chris Walsh released a tool that allowed updating regardless of carrier affiliation. Shortly after, Microsoft warned and insisted that these phones would not be able to update past version 7390. The reasoning was not entirely clear, but they seemed pretty darn sure of it, and we had little reason to doubt them.
Now, from a technical standpoint, my trusty Focus was updated via a different method, but the results were essentially the same. The version was 7390, now it's 7392. And to further prove this, Chris Walsh has recently Tweeted this to be the case on his "Walshed" (ChevronWP7.Updater updated) phone. And given this, I would be highly shocked if the update actually did fail for anyone with a "Walshed" or otherwise unofficially updated phone.
Microsoft has had no comment on the issue yet, but it certainly leaves a lot of questions. Am I just among the lucky ones? Will these phones continue to update into Mango, and if so, was Microsoft wrong in it's assumption?
Whatever the case, I'll be sure to report back once more information is available. Any readers have so-called "Walshed" phones that have been able to update? Do let us know in the comments.