Microsoft urging iOS developers to develop for Windows Phone 7
Posted on 07-11-10 07:00 pm
We all knew Microsoft wanted developers for Windows Phone 7, but who knew it would go this far?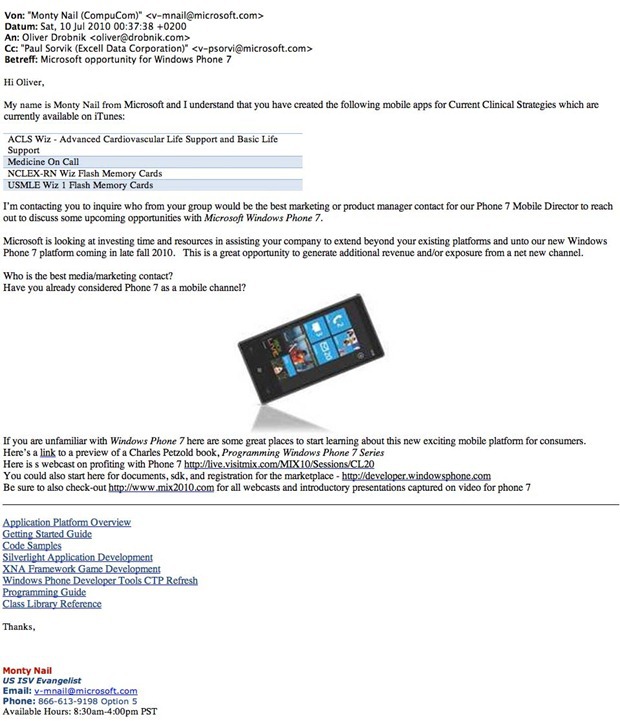 The above email was sent to a certain iPhone developer, who obviously was not interested. His reaction to the email:
You could probably guess my response. I previously elaborated that my own strategy concentrates solely on the iOS platform. I am already seeing this approach bear wealthy fruits because my multiple iPhone/iPad-related activities are in a state of constant cross-pollenization. I've adopted Apple's strategy to sharply focus your resources and not get distracted by "other things you could also do". In short I love the business that Apple enables me to conduct, I am very satisfied by it.
Sorry Microsoft, my loyalty to iOS is not for sale.
The email seems interesting in many ways, especially that Microsoft is "looking at investing time and resources in assisting your company to extend beyond your existing platforms" for their platform coming in "late fall 2010", putting the launch closer to November than the previously thought September or October.
While Microsoft has probably had some success with this strategy, it's probably best just to look for new developers, rather than fanboys for a different platform.
[Via: WMPoweruser]