MAGLDR boot loader coming to the Samsung Focus?!
Posted on 11-19-11 08:05 am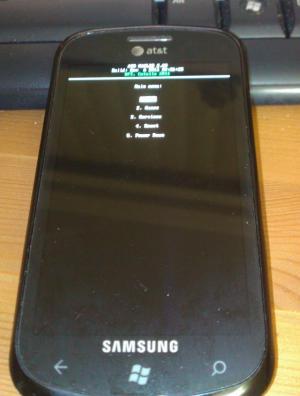 In a bit of shocking news today, a tipster over at wpcentral has discovered something extremely juicy. An image of the Samsung Focus running MAGLDR was posted over at the Dark Forces Team forums. This is potentially huge. Not only has Samsung ROM development been close to non-existent lately, but the development of MAGLDR for the device will allow an easy, safe method of installing and managing ROMs. This means full custom software for the Focus, and potentially other Samsung devices.
The stage of the tool is unknown, nor are the steps required to achieve this, but the good news is it works well enough for DFT to tease it off. As for the credibility, the image was posted by mwang, who is known on both DFT and XDA as a strong member of the group, posting projects such as custom ROMs and HSPL for HTC devices, leaving no question to the authenticity of the image. At the same time, we don't know the abilities of the tool, but considering as they managed to get it onto a device, it's safe to say the potential is high. Stay tuned as we look into this, and don't drool too much on your keyboard.
Update: Per this XDA Developers post, it looks like Cotulla is leading the project (of course), and has given us some updates on it. Cotulla explains that the installation will require installing MAGLDR via DMLI (a tool that has no relevant search results) and then use MAGLDR and SWPI to flash the custom ROMs, just as one would do on the HTC HD2. The process is designed this way to prevent bricking, as MAGLDR runs on top of the primary boot loader and prevents damaging it. Also, the first release will be for the Focus 2K REV1.3, meaning no Focus 1.4 support until later. Omnia 7 support may also come.
[Via: wpcentral]