How to Trick Zune into installing Mango Now
Posted on 09-29-11 08:18 pm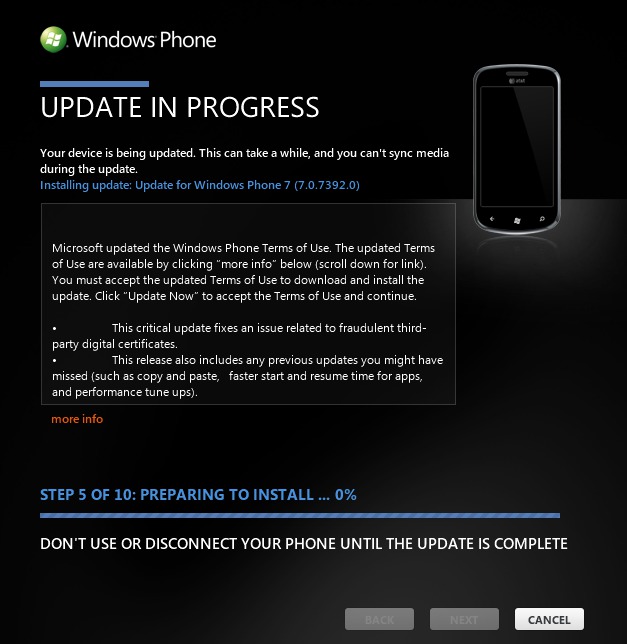 In an event we can't particularly explain, instructions posted by wpcentral on how to force Zune into updating your Windows Phone, well, actually work.
These steps differ from that old silly method of using a Hungarian proxy. No, this method requires much less precise time, and in fact, worked on the first try for us. Here's what you do, in essence:
Plug your phone into your computer and open up Zune

Press Settings, click Update. If it says you're up to date, it's time for some fun.

Click away from the Update page and click back to check again, but immediately after clicking, disable your internet connection. We did this by heading into Windows 7's adapter settings and clicking "Disable this network device."

If it worked, you should see an update notification magically appear. Wuh? Whatever. Re-enable your network and install the update, and repeat this process until Mango build 7720 is installed.
Why this works doesn't really make sense, it's as if it's checking the update server and then further checking with another server to see if the device is in the top tier for Mango. Actually, that's probably exactly what's happening (we'll look into it ala Wireshark after this next update finishes). It's not cellular related, because interestingly enough, our device has no SIM at present. Go figure.
Whatever the reason for this, keep in mind that a good thing has happened, thanks to someone who felt like sharing. Try it yourself and tell us what happens.
Update: If you don't believe us and the commenters, or just want a quick look at the process, here's a short video going from 7008 to 7720:
[Source: wpcentral]