How to enable HSUPA on your Samsung Focus and triple your upload speeds
Posted on 04-19-11 07:46 pm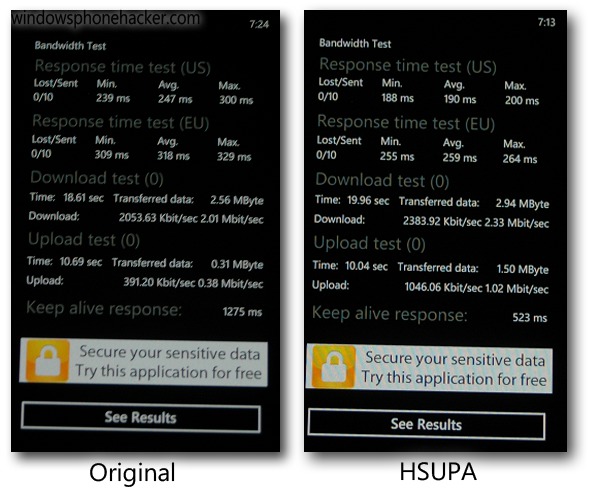 If you're looking to lift some of the restrictions on your Samsung Focus's data usage, you've come to the right place. Using the diagnostics menu and some steps revealed by Wpcentral, you can switch your Samsung Focus from HSDPA to HSUPA mode. Here's the steps, but before you do it, be sure to read on:
Open up the phone keypad

Dial ##634# and press call

A diagnostics menu with a number pad should appear. At this screen, enter *#32489#

A test mode screen should appear. Press the small back button on the screen (not your phone's back button).

Click 5 for the RRC (HSPA) control

Press 1 to see what you're currently set to

Press 2 to change it, and select option 3 for Release 6 HSDPA/HSUPA

Press the End button, then restart your phone.
While wpcentral reports that is restriction is placed on the NoDo-updated Focuses, we discovered our Samsung Focus with no AT&T updates was set on Release 5 by default. Changing this gave us the results above. This is anecdotal evidence, but in all our trials, Release 5 kept the upload speeds below 0.3mbps, and Release 6 got it over 1mbps, a nearly three-fold increase. We're not really sure why this is, as again, our Focus was not updated by AT&T, but if you're curious to see what your phone is set on, open up the menu and read what your release number is. If it's set on Release 5, you might want to give Release 6 a try and see if it increases your speeds.
Give it a shot, and let us know what happens in the comments. Again, this is experimental, but the data seems reliable enough.
[Source: wpcentral]