Get the Mango update now. Without being a developer.
Posted on 07-04-11 09:38 am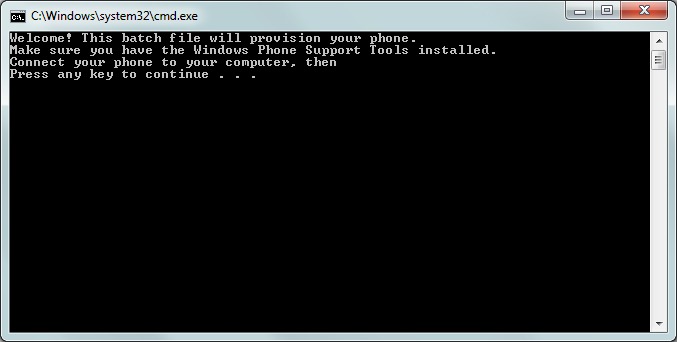 A little birdie gave this to us this morning. It was evident that Microsoft's releasing of Mango would lead to leaks, such as the one over at XDA Developers. Unfortunately, these leaks required the users to already be developer unlocked, which more or less took the point out of it. Thankfully, a solution is now available.
This tool will run the UpdateWP.exe file to provision your device to receive beta updates. It requires the Windows Phone Support Tools to be installed, and your device needs to be updated to NoDo or beyond. It, however, does not require a developer unlock. Simply download the file, connect your phone, run the batch file, and it should take care of the rest. After it's done, fire up Zune, and you'll be prompted to install the beta.
Keep in mind this tool does not backup your phone, so you might want to use this tool to backup your phone. Other than that, well, we're told you should enjoy.
Please note we are not responsible for any damage caused to your device, in trouble in get into, etc. Do it at your own risk. It hasn't been fully tested, so you may run into some issues. Let us know in the comments if you have issues and we'll try to help.
Updating to Mango
Requirements: Windows Phone Support Tool, Zune
Download the tool

Make sure Windows Phone Support Tool is installed

Connect your phone to your computer

Run the tool and follow on-screen instructions
Update: Version 0.2 of the tool will automatically backup your device, copy the backup to a safe place, and provides an option to automatically roll back to NoDo.
Before running update.bat, make sure you have the stock version of Zune installed. There are 2 updates to install (not including update.bat's update). If you have a URI error, run update.bat from the command line.
Notes: (Thanks WWPX)
A. Close Zune program before executing Update.bat. Otherwise, Update.bat only copies the old Zune backups to C:\PreMangoState and doesn't touch the phone at all (because Zune already own the connection to the phone). One warning message scrolls by too fast for anyone to catch this problem.

B. Make sure you have enough disk space in C: drive because Update.bat copies the old backups in there. For me, they were NoDo and pre-NoDo backups which consumed 4GB. I had about 8GB left so it was a close call. I could have lost my NoDo backup if I had less than 4GB left on my C drive.
Restoring NoDo
You must restore NoDo before the Mango update is released, according to Microsoft. This applies to everyone, including registered developers.
To restore NoDo, run the Restore.bat file. Alternatively, the updated version provides a readme.txt file for manual restoring instructions.
For the techies
If you'd rather provision your phone yourself, here's the info you need:
[HKEYLOCALMACHINE\Software\Microsoft\Windows\DeviceUpdate\Agent\Protocol]
"TestTarget"="15c00000-0003-0001-c0d4-m4a1f005ba11"
[HKEYLOCALMACHINE\Software\Microsoft\Windows\DeviceUpdate\Agent\Settings]
"GuidOfCategoryToScan"="0fdd4743-cba1-4a2b-af7c-5af9fd93951a"
Good luck, and let us know what happens in the comments.