Future Windows Phone 7 jailbreak tool, WP Device Manager, to no longer support unlocking
Posted on 03-07-11 05:13 pm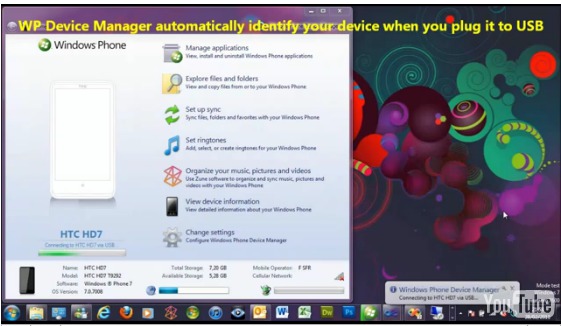 We had previously reported that, despite ChevronWP7's discontinuation, a new "jailbreaking" tool was on the way, that is, a tool that developer unlocks one's handset without developer registration. The tool was originally going to be included with TouchXperience's Windows Phone Device Manager, which was recently previewed on video. However, the developer, Julien Schapman, now writes:
Because I was bored getting hundreds of emails from people asking me to send them WP Device Manager so they can continue to use pirated applications, and because there will be a short term solution for homebrews, I decided not to include my jailbreak tool. I respect other developers and I don't want to be responsible for piracy, I've been contacted by Brandon Watson from Microsoft and I wish to be involved in the official homebrew support on Windows Phone.
We find this a little bizarre, as we have yet to see any true piracy option for Windows Phone 7 (though we have little doubt that such a solution exists), and are a little disappointed. Until Microsoft's official solution comes out, unofficial ringtones and third-party applications will simply have to wait. We understand Schapman's reasons for the decision, however, and find them similar to GeoHot's reasons for discontinuing his iPhone jailbreak line. We do hope, however, that a new solution for Windows Phone 7 "jailbreaking" comes soon, so we can continue with our custom ringtones, accents, third-party apps, and in-depth customization. Until then, however, it looks like NoDo will be the end of line for us homebrewers.
Source: TouchXperience