Fun customization related hack, any interest?
Posted on 12-07-11 04:10 pm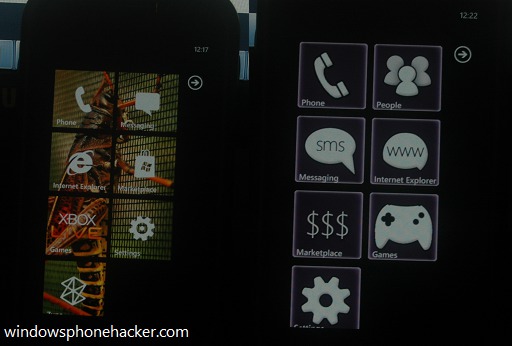 Curiosity and boredom are necessary for innovation. At least that's what we tell ourselves. Here's a fun little hack by Jaxbot, which allows customizing any start menu tile on the device. This enables a "theme" of sorts, as seen above. One customization method uses a background behind the default tile design, whereas the other replaces from completely with custom images.
It actually works fairly well, and could be a cool hack for the upcoming holiday season. Our question is, how much interest is there for a public release? We're asking about the concept, here, not our sloppy artwork ;)
Requirements are on the light side, needing only a developer unlock (Chevron Labs will do fine). If there's decent public interest, we'll release more info on it soon. Leave your thoughts in the comments below.
Update: We're working on it, hang tight! Keep tabs on this site, and our Twitter and Youtube pages for more updates.
#2: Demonstration video, questions answered. Check it out: