For users with Mango: Mango Friends and Family Bundle: Pre-Cleanup Update
Posted on 09-26-11 05:34 am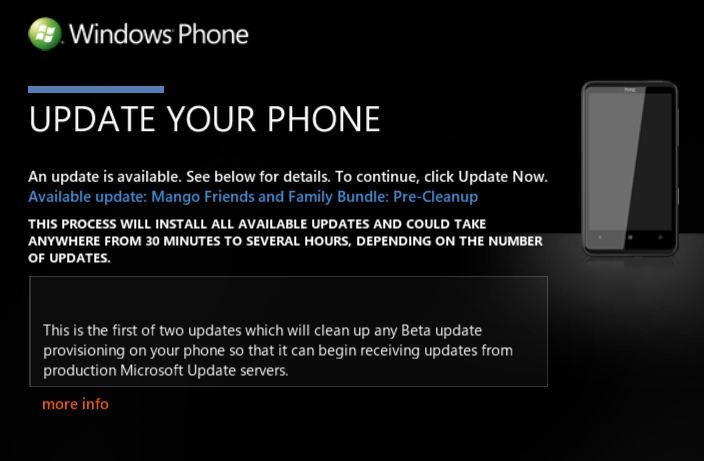 For those of you with the Mango beta installed, it looks like Microsoft has a better solution for you than rolling back to NoDo to get the official Mango. The above update shows up as "Mango Friends and Family Bundle: Pre-Cleanup" and is apparently one of two updates that will clean up the phone and get it back on the regular updating track.
In technical terms, it looks like this update removes the beta provisioning information from your phone, which means there's no reason to roll back to NoDo. That's good news.
It's also interesting that it seems to be appearing on build 7720, which was originally thought to be the RTM build. This means the update could be deploying to everyone with the beta provisioning still installed, or, it could mean that there's another build after 7720 that is the true RTM. We'll check up on this and get back to you.
Note: This update only applies to people with Mango already installed. Regular users won't need this update.
[Via: 1800PocketPc; Source: WindowsPhoneNZ]