ChevronWP7 Labs to bring authorized homebrew-for a small fee
Posted on 06-17-11 04:05 pm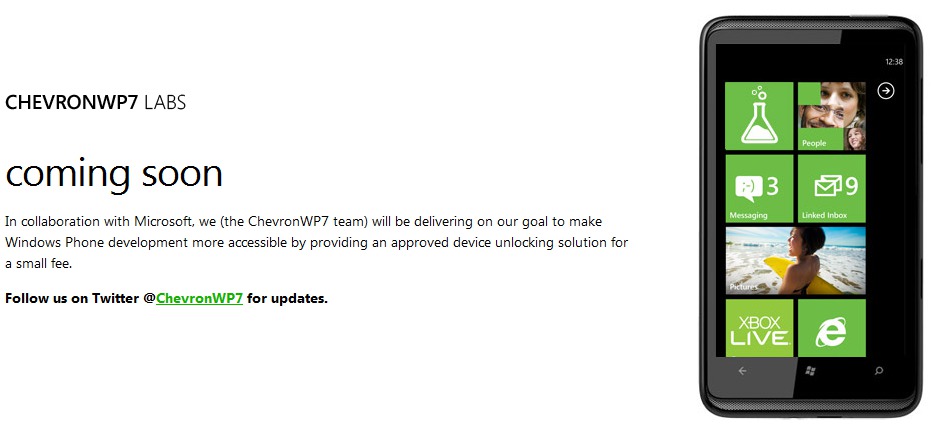 Homebrew has been running slowly on Windows Phone for the last few months, the major plateau being the difficulty of getting devices with NoDo to be unofficially unlocked. So far, the only solution is to unlock while still on the RTM build, then update, or cough up a Benjamin for the rights to publish an application, whether or not you actually intend to.
A solution to the latter issue has been address today by the ChevronWP7 crowd, who previously brought unofficial homebrew to the devices via the ChevronWP7 Unlocker tool. A recent blog post reads:
It's been a while since we posted something. Between fixing state machines and avoiding the paparazzi, we have been busy tinkering with Microsoft behind the scenes.

As you may remember, one of our goals was to make Windows Phone development more accessible. Plans have recently solidified and we can now reveal a solution we've been working on.

As announced on the Windows Phone Dev Podcast, we will soon be launching an approved Windows Phone unlocking service as part ofChevronWP7 Labs. This will be available to developers across all skill levels and all regions.

The service will require a small fee — currently via PayPal — to offset costs but we assure you it will be more affordable than the App Hub. Those who wish to write and immediately publish apps are recommended to sign up to the App Hub instead.

We're excited to be making this service available to users with the support of the Windows Phone team.

Follow us on @ChevronWP7 to know the moment we launch.
Essentially, this solves the issue of people who were unable to qualify for App Hub, or simply unable to spare the change, and will help to keep internet pirates away from the platform. At the same time, we can't help but wonder how the whole system will work, and whether or not a "small fee" is enough to get homebrew back on its feet.
Let us know your thoughts in the comments below.
[Source: ChevronWP7; Via: Windows Phone Secrets]