Analyzing the new Tango emulator, Part 1
Posted on 02-27-12 01:49 pm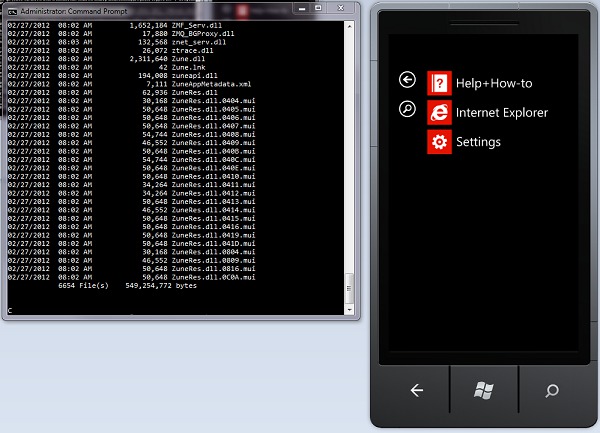 Microsoft released a new version of the Windows Phone SDK today, or rather, released a quick patch that included a new emulator to test applications against to ensure they would run under 256mb of RAM. I haven't had much time today to look into things, but here's my initial analysis after dumping and comparing it to Mango's emulator:
The new emulator is build 7.10.8731, which is a few builds back from the 8757 that's floating around. (8757 was staged and given to a select few devices worldwide. DFT happens to have it laying around)

There are 2549 total files in the Tango dump that are different compared to corresponding files in the Mango dump. This number is particularly high for a variety of reasons, including regional/language file changes.

The following files were added to the Tango dump (e.g. were not in the Mango dump)

1fbb0a6b-4784-4626-967c-f854eb014585.dsm

1FBB0A6B-4784-4626-967C-F854EB014585.rgu

7c926679-58f4-4c18-b65f-0f9f21ae8290.dsm




887d2d4b472246aea25c8fd2be91bb4e.xap (Help and howto)

887d2d4b472246aea25c8fd2be91bb4eLicense.xml (License for above)

CopyPaste.wav

eccgen.dll (Something to do with encryption)

fmrxtestconfig.xml (Radio stuff)

FmStubPdd.dll

Internet Connection Sharing stuff

IcsClient.dll

icscsp.dll

IcsService.dll

intshare.dll

ipnat.dll

mpapHelpHowTo02.provxml (These allow the ConnectivityUX and HelpHowTo apps to be

installed on coldinit (hard reset))

mxipupdateConnectivityUX100.provxml
mxipupdateHelpHowTo02.provxml

omadsprc.exe

SelfRegistration.dll (Microsoft Self-registration Message SMS Protocol, no idea)

ShortMsgProvider.dll

SIMContactsManager.dll

SimContactsSync.dll

softap.exe (IC settings)

softapuxdll.dll

SAPUXPacMan.xml

(Edit: These are present in Mango, but not in the emulator dump. Thanks @jessenic)

The following files were removed from the Tango dump:

6a540b21-b5c0-4d24-8903-b5b5eb97df58.dsm

ContactsSimImport.dll

HelpHowTo.xap

HelpHowToLicense.xml

Microsoft.Phone.xamlbin

Mosaic.wma (unpopular ringtone?)

(old version) mpapHelpHowTo01.provxml

retaillog.dll
I'll start digging into the significant changes, but here's a little part one for people who are curious. Questions?