Folders for Windows Phone Mango, second release
Posted on 11-03-11 02:26 pm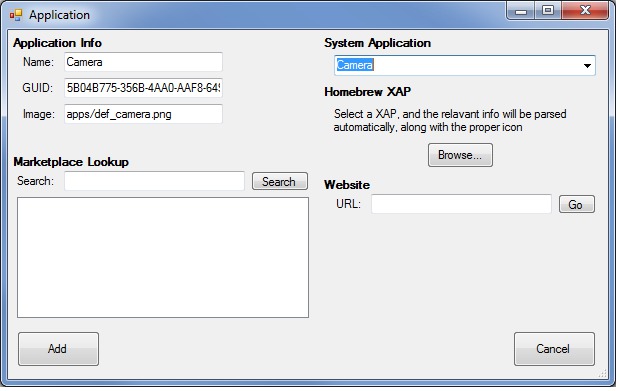 Thanks to the enormous amount of feedback we received, here's a quick update for the Folders project for Windows Phone Mango. The new version adds some fixes and improvements, as well as some high demand features. Without further ado, here's the rundown of new features:
System applications: The tool now allows select "system" (built-in) applications to be added directly to folders. The list includes main built in applications (Zune, Marketplace, People hub, Games), as well as some other useful links (WiFi settings, Flight mode, etc). If there's a desired application that we missed, let us know in the comments and we'll add it.
Homebrew XAPs: Simple little import function now opens homebrew XAPs and extracts the info/icon, making it much easier to add homebrew programs into the folders.
Websites: Enter a URI and an entry for the site will be added to the folder. Make sure to type the full domain name, e.g. http://windowsphonehacker.com/, not just windowsphonehacker.com
Support for extended/non-default tasks: Add a /TaskName to the end of the GUID to launch non-default tasks (For the techies). Examples include 5B04B775-356B-4AA0-AAF8-6491FFEA5660/default?StartURL=example.com for navigating to IE pages, etc.
We're still trying to get some other stuff in order, but we figured we would get some of the elephants out of the room in the meantime. Let us know what you think, and if you have any new suggestions*.
Here's the link. No hotlinking, please, or redistribution. Link to the current page instead.
Download: foldersconfigv2.zip
* Don't request live tiles. It's not possible, not without some serious system access, which really isn't worth it.